Welcome to celebrate Christmas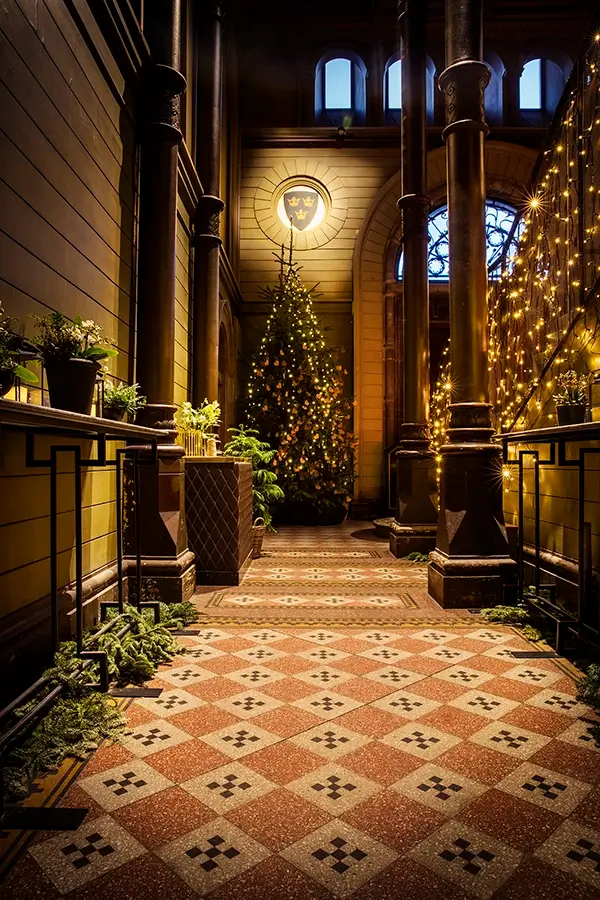 Arrive on time & avoid stress
Please arrive about 15 minutes before your booked time to hang out in peace and quiet in the wardrobe and order something to drink in our bar on the entrance floor, before being shown to the table.
Discover our Christmas shop!
In the large stairwell under the slide built to transport books and documents out of Gamla Riksarkivet, you will find our Christmas shop. Here you can buy goodies from our dessert room, Niklas Ekstedt's Christmas cookbook and much more. We are happy to offer mulled wine while you explore the range.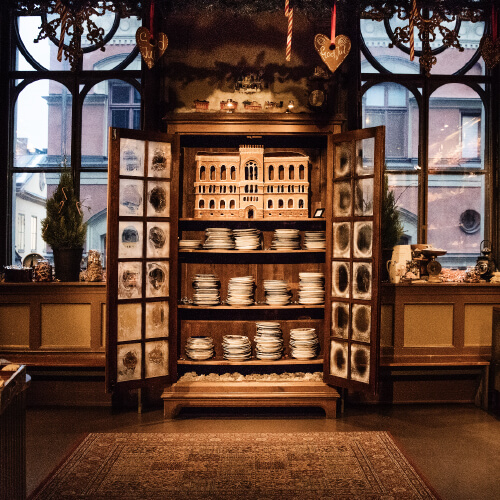 Our History
With a history that takes us back to 1887, the Old National Archives is today one of Stockholm's most historic buildings. After the former National Archives burned down in 1697, a rebuilding began, with the fire in mind, the new National Archives was designed to be Sweden's most modern and most fireproof building. In 1891, the building was completed. The beautiful windows that look out towards the Old Town are original and let in lots of daylight. Which fulfilled an important function in the 19th century when the building completely lacked electricity.
Since 2014, Niklas Ekstedt has taken over and serves his annual Christmas table in the building.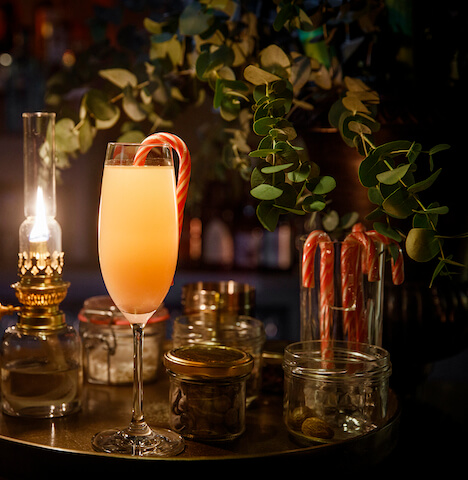 Preorder your drinks
Before your visit, you can pre-order the drinks you wish to enjoy, so that you can relax throughout your meal. Contact us and we will help you, you can reach us on both mail and phone.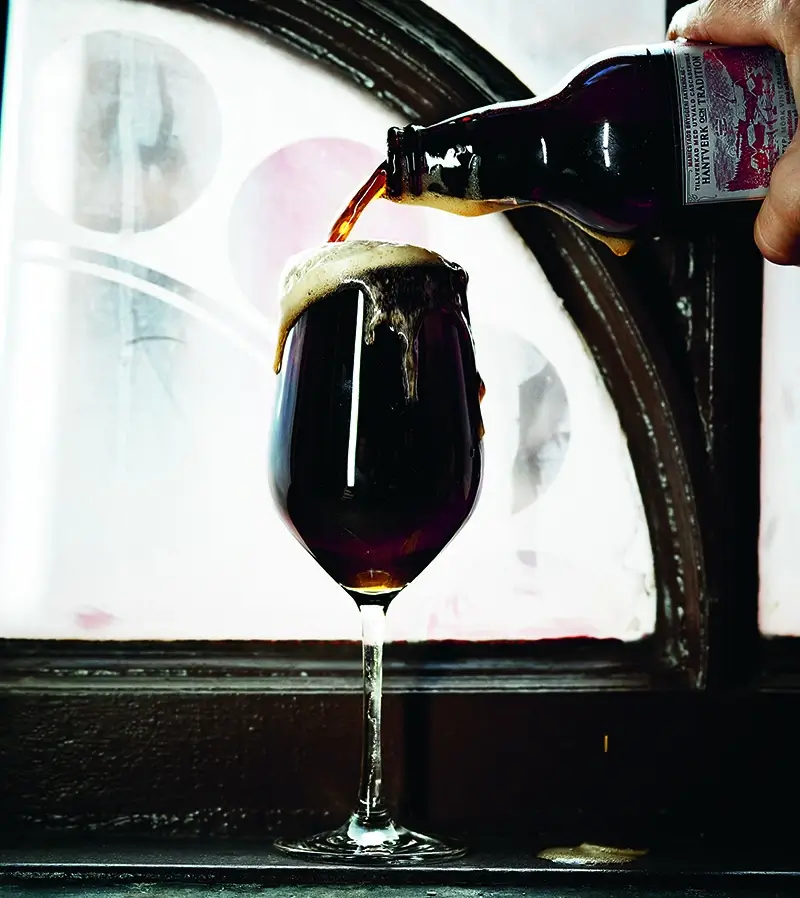 Drink packages
For your convienience we have composed three different drink packages; Classic, Lagom, and Tabberas. All of which can be ordered ahead of your visit, to make your experience a little extra gilded at the edges. The three different packages all offer Gamla Riksarkivets Julakvavit and start from SEK 285.
Find your way
Niklas Ekstedt's Christmas table is held at Gamla Riksarkivet on Riddarholmen. You will find the entrance at Birger Jarls Torg 2A, which is only a short walk from Gamla Stan's subway. Alternatively, you can arrive by bus to Riddarhustorget for an even shorter walk.
Map
Contact us?
If you have questions before your visit, want to let us know about something, or wish to pre-order drinks, you can reach us by email jul@gamlariksarkivet.com and phone 08-5194 21 52.
Questions & Answers
IN WHAT ORDER DO YOU EAT A CHRISTMAS DINNER?
In the 60s, Tore Wretman coined the term "Julbordets turer", this in order so as to not fill the plate to the brim and thus be able to enjoy the craftsmanship and the good flavors a few at a time. From the beginning, there were seven "turer", where the herring was one trip, the salmon another and so on. Now, many people think that five tours are enough, but more often than not can "turerna" mix together, as many parts of the buffet compliment each other.
HOW MUCH DOES A CHRISTMAS DINNER COST AT GAMLA RIKSARKIVET?
During the month of November, Lunch and afternoon costs Mon-Fri 795 SEK, Sat-Sun 995 SEK.
Evening every day 995 SEK.
In the month of December, lunch costs Mon-Fri 895 SEK, Sat-Sun 1295 SEK.
Afternoon and evening costs Mon-Thurs 1095 SEK, Fri-Sun 1295 SEK.
HOW TO DO I GET TO GAMLA RIKSARKIVET?
The address is Birger Jarls Torg 2a, 111 28 Stockholm. The nearest metro station is Gamla Stan, one stop from Central Station (T-centralen) or Slussen. Take the exit to Riddarholmen. When you come out of the metro station, head right and along the water.
Buses 3 also stop at Riddarholmen. Once in the square, go through the black gates of the pink building on the right where Gamla Riksarkivet is located.
IS THERE PARKING?
There is limited parking at Riddarholmen both outside the church and further down the water. Parking is charged 24 hours a day.
IS THERE A CLOAKROOM AND WHAT DOES IT COST?
The cloakroom is on the entrance floor and is included.
IS GAMLA RIKSARKIVET ACCESSIBLE TO ALL?
Yes, we have both elevators and accessible toilets.
DO YOU HAVE VEGAN & VEGETARIAN OPTIONS?
Yes, of course we have both vegan and vegetarian options. Ask your waiter.
DO YOU SERVE ALLERGY-FRIENDLY FOOD?
Yes. We signpost all allergens and we always have experienced chefs on site who are happy to help with any questions.
DO YOU HAVE WIFI NETWORK AVAILABLE TO THE GUESTS?
Yes, simply ask your waiter for the password.
I LEFT SOMETHING BEHIND, WHAT DO I DO?
You can contact us by phone or email if you have lost something with us.
DO YOU HAVE AN AGE LIMIT?
No, except for our child-free late sessions on Fridays and Saturdays, we have no age limits.
DO YOU TAKE BOOKINGS AT SPECIFIC TABLES?
No, we do not promise any specific tables.
IS IT POSSIBLE TO HIRE A SEPARATE DINING ROOM?
We take private bookings for parties of up to 114 people.
CAN WE BE INVOICED?
Invoicing is possible for groups of 25 people or more when an agreement is made at the time of booking. In case of invoice payments, a fee of SEK 195 will be added. We do not invoice individuals or foreign companies.
HOW LATE CAN I CANCEL MY BOOKING?
Cancellations of the entire dinner can be made up to 14 days before and adjustments in number up to 7 days before the set time. Cancellations after this are charged a fee of SEK 500 per no-show guest.
DO YOU HAVE TO ORDER DRINKS IN ADCANCE?
No, that is not necessary. We have knowledgeable waiters who are happy to guide you through our range of beverages. Should you wish, there are ready-made beverage packages.
CAN I BRING MY CHILDREN TO THE RESTAURANT? DO YOU HAVE HIGH CHAIRS? CAN I BRING A STROLLER IN?
Children are of course welcome to us. We can offer highchairs, but due to fire safety we cannot guarantee that you can bring your pram to the table, the insert in the pram can always come with you, however.
Daytime weekends it is extra fun to be a child with us when the cinema is open. Note that our late evening sessions on Fridays and Saturdays from 8pm are child-free.
WHAT CHILDRENS MOVIES DO YOU SHOW IN THE CINEMA AT THE WEEKENDS?
It varies, both old Astrid Lindgren classics to more modern films. Our nanny will be happy to take requests.
DO YOU SELL GIFT VOUCHERS?
Unfortunately, due to limited opening hours, we cannot guarantee availability.